Sold Out
No-poke 14k Onyx Earrings
"My wife loved the quality and the look of these earrings. Will be coming back for future gifts!" Kevin P.- Customer Earrings for getting out there and staying in. No poke earrings for sleeping and living. 14k Solid Gold Made...
Free standard shipping to AL, AZ, AR, CA, CO, CT, DE, FL, GA, ID, IL, IN, IA, KS, KY, LA, ME, MD, MA, MI, MS, MO, MT, NE, NV, NH, NH, NJ, MN, NJ, NM, NY, NC, ND, OH, OK, OR, PA, RI, SC, SD, TN, TX, UT, VT, VA, WA, WV, WI, WY.
Shipping to all other locations, including internationally is available for all products during checkout. 
RETURN & EXCHANGE POLICY
We want you to be completely happy with your purchase. If for any reason you are not satisfied with your purchase within 30 days after receiving your order, we will gladly offer:

• A refund to the original credit card used for payment for product(s).
• A merchandise exchange

All refunds will be credited to the original method of payment on your order. The returned product(s) must be unworn and in the original packaging. Any special orders, made-to-order products, and final sale products, are not eligible for returns, exchanges or refunds. Any packaging, shipping or handling charges are non-refundable.  Erin Keary Gift Cards and merchandise credit are not refundable or redeemable for cash.

FOR INTERNATIONAL RETURNS & EXCHANGES
To submit an international return or exchange request and obtain your Return Authorization number, please contact our client service team at studio@erinkeary.com with your full name, email address, and order number.
Once your return request is authorized, you will receive an email with detailed instructions on how to return or exchange your item(s), including instructions on return shipping.
Please mail back the product(s) within 14 days after your request has been approved. The return package should include a copy of the packing list with your Return Authorization number.
All components and material used in our products are produced in the USA. From the recycled silver to the paper in our packaging, you can feel confident that we source with intention. We also fully guarantee our products. To learn more about our guarantee, click here.
Sterling Silver
Erin Keary silver jewelry is made with .925 solid sterling silver, including chain, earring backs, and posts. Sterling silver is safe for those with sensitive skin and nickel allergy.
10k Solid Gold
Erin Keary 10k gold jewelry is solid. 10k gold offers great durability and warm gold color.
14k Vermeil
Silver-glit, gilded silver, or known by the french term Vermeil is a specific term that differs from gold plated jewelry.
Vermeil is .925 solid sterling silver that is coated with at least 2.5 microns thick of gold which must be not less than 10k fineness.
This differs from gold plated product as gold plated product is not required to have a core made of .925 sterling silver. It can be any base metal, brass or copper, and there is no required minimum thickness of gold present.
Gold-Filled
Gold-filled jewelry consists of a thick layer of gold which is bonded to a core metal interior. This offers a durable finish that will not peel or flake like some gold plated jewelry.
American Mined Stones
All of the stones we use in our product are mined in the USA. We currently offer jewelry with:
Arizona peridot. Birthstone of August and the 15th anniversary gemstone.
Montana sapphire. Birthstone of September and the 5th and 45th anniversary gemstone.
Oregon red and black jasper. Opaque vibrant colored quartz for our inlay pieces.
Arizona turquoise. Birthstone of December and the 11th anniversary gemstone.
If you have fallen in love with one of our rings but don't know your ring size, no problem. There are three easy ways to find your perfect size listed below.
Easy to use.
Click here
 to order your ring sizer.
Option 2: Find your size with supplies at home
You will need 4 items.
Paper
Scissors
Pen or Pencil
Ruler that measures in mm
Step 1: cut out a strip of paper the thickness of a ring band.
Step 2: wrap the strip of paper around your finger. Make sure to wrap it around the thickest part of that finger, possibly the knuckle.
Step 3: with the paper wrapped around your finger, take the pen or pencil and mark the paper strip at the location where they overlap.
Step 4: remove the paper from your finger, flatten it and measure the distance that was wrapped around your finger.
Step 5: compare your measurement with the chart below. If your measurement is between two sizes, choose the larger one.
| | |
| --- | --- |
|  Measurement | Ring Size |
| 46.8 mm | 4 |
| 49.3 mm | 5 |
| 51.8 mm | 6 |
| 54.4 mm | 7 |
| 56.9 mm | 8 |
| 59.5 mm | 9 |
| 62.1 mm | 10 |
| 64.6 mm | 11 |
| 67.2 mm | 12 |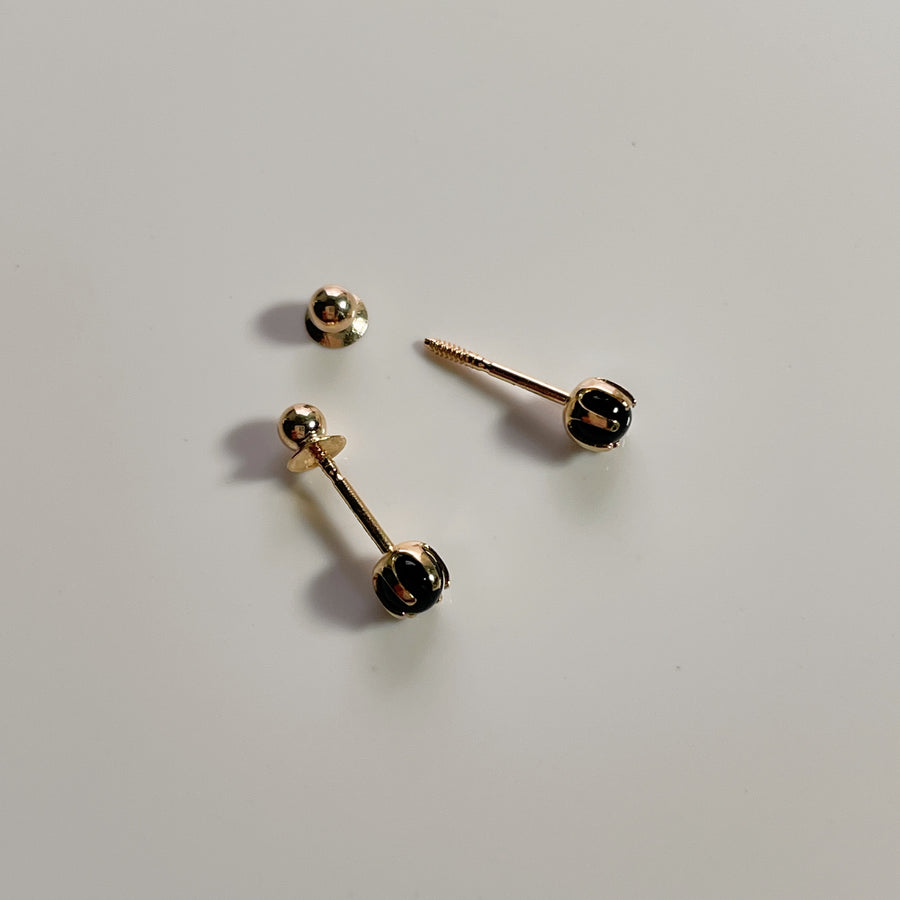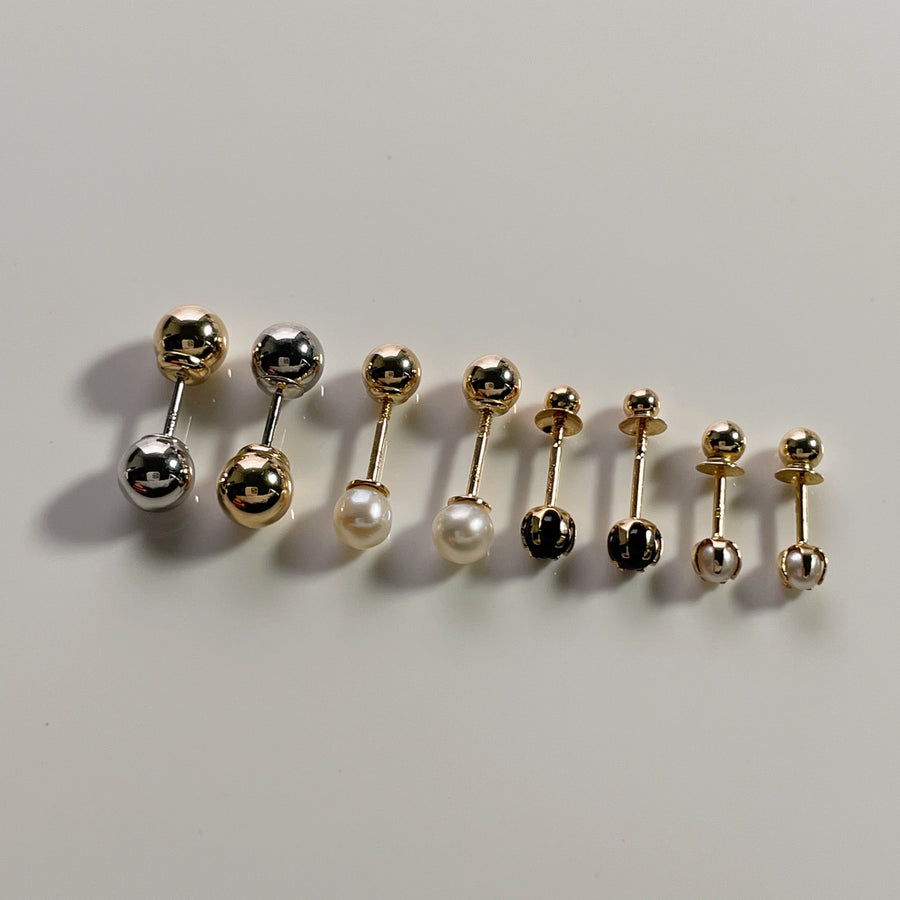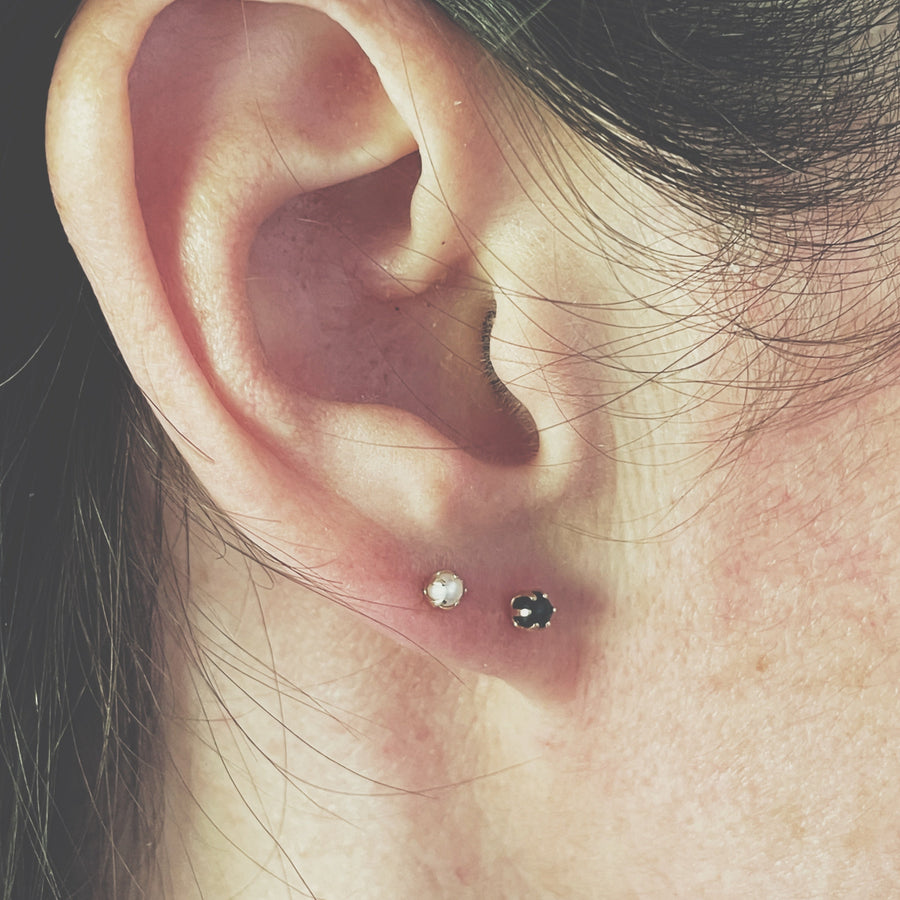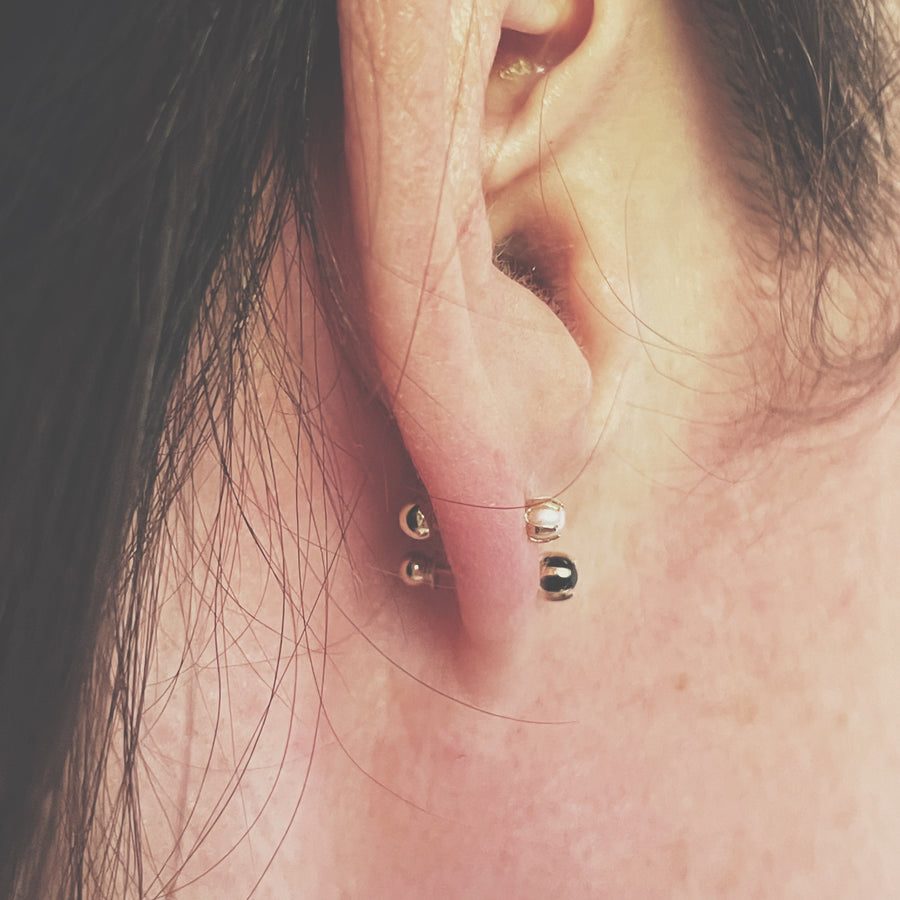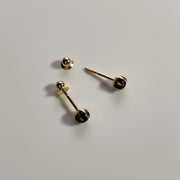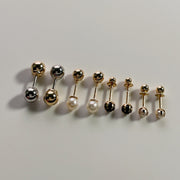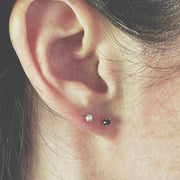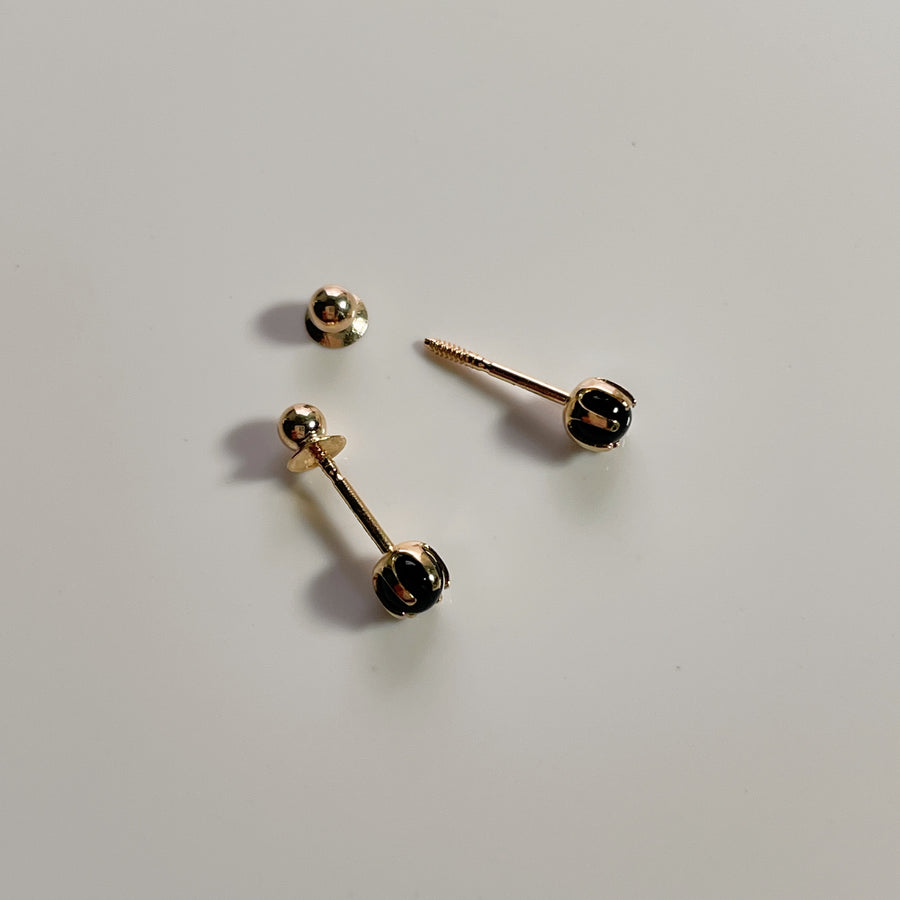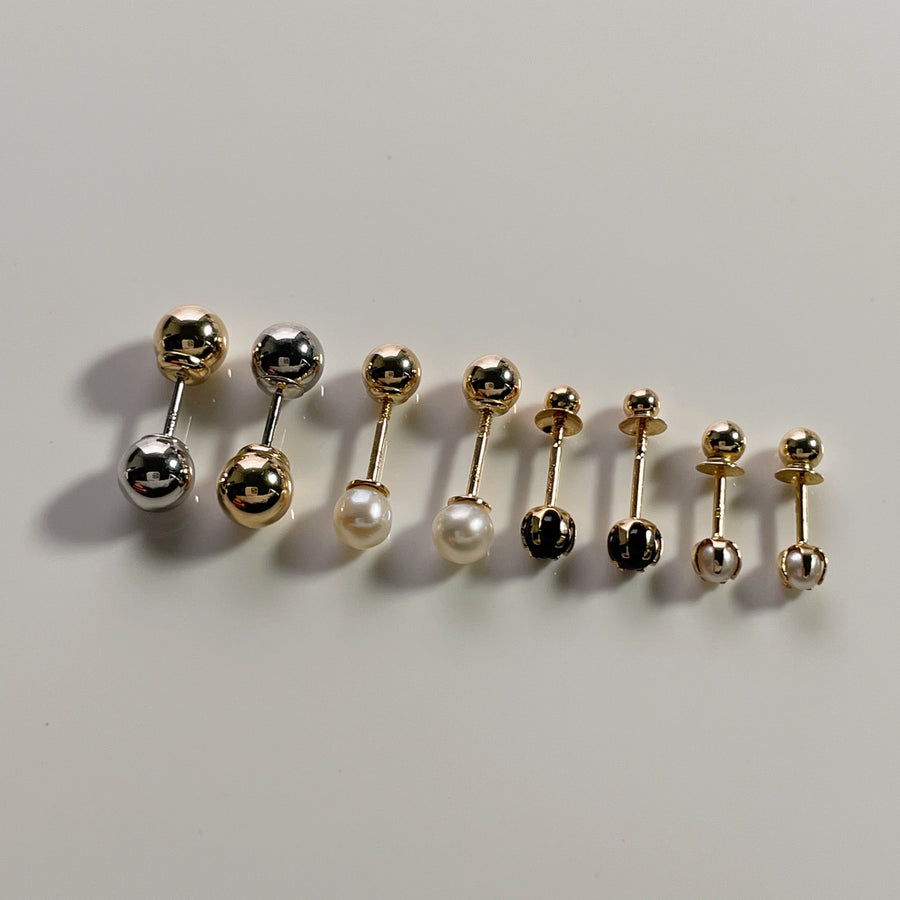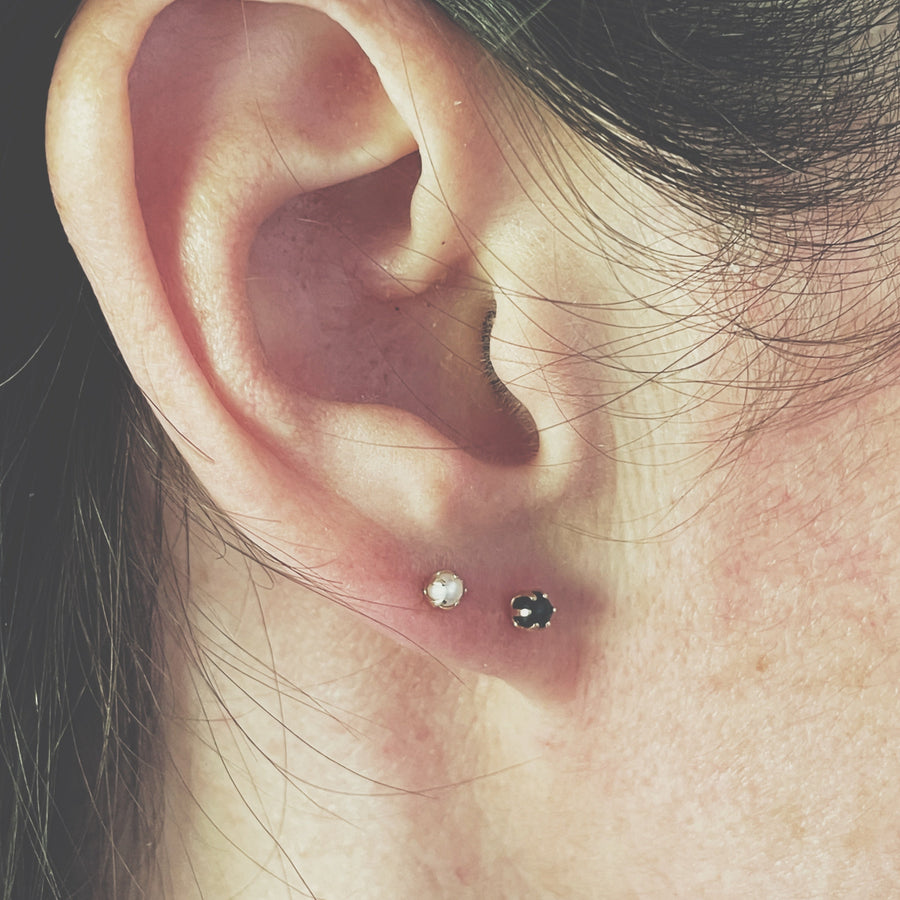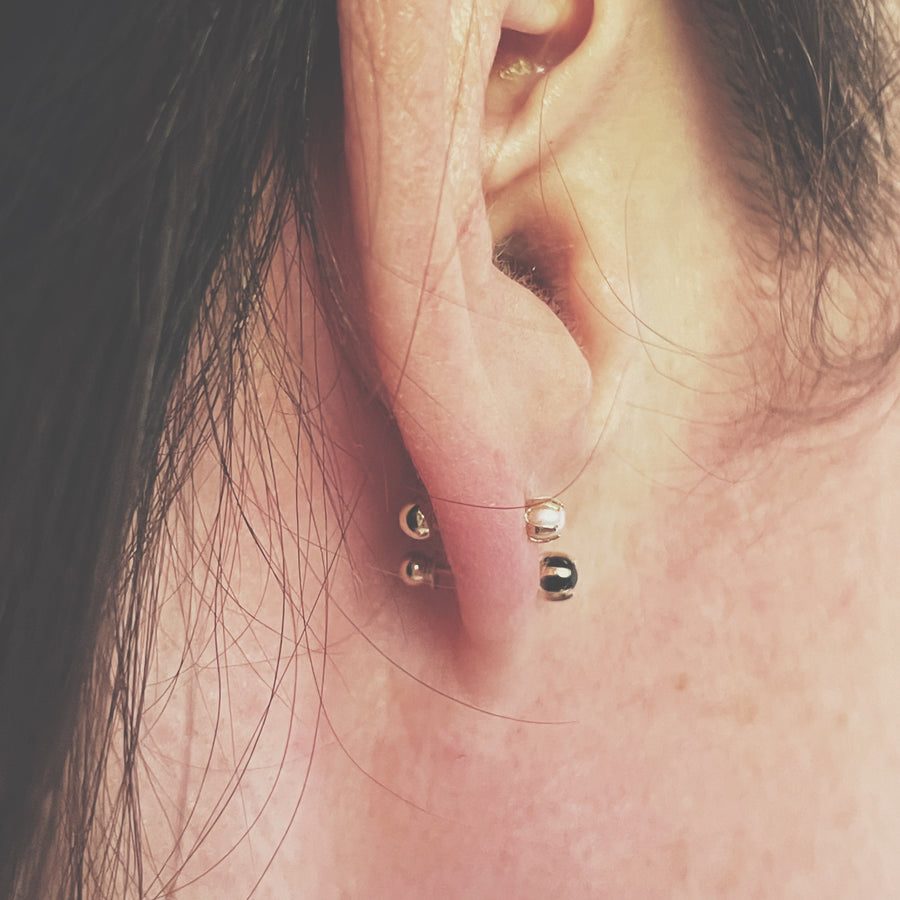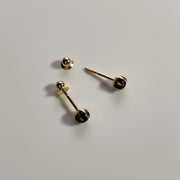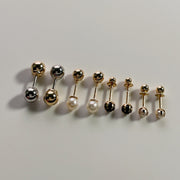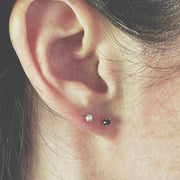 No-poke 14k Onyx Earrings
"My wife loved the quality and the look of these earrings. Will be coming back for future gifts!" Kevin P.- Customer
Earrings for getting out there and staying in. No poke earrings for sleeping and living.
14k Solid Gold
Made in the USA
Black Onyx Stone
Prong Setting
4mm ball width